Simplify Your Air Travel with Monroe Shuttle Service
Whenever you travel by air, it can prove an exhausting process. Planning for flights means tickets, transportation, time, and totes. While we cannot help you much with tickets, a Monroe airport car service can help with some things on your list. We can help with transportation to and from the airport, time management, and toting luggage. When you have to be at the airport on time, the last thing you want to worry about is losing time. Parking, calculating routes, and hiking through parking lots all take away valuable minutes. Carrying bags to the car at home, and unloading and reloading onto trolley carts all take time and effort. This is especially true if you are traveling with a family. When you are looking for a Monroe airport shuttle business, look for one that services your area, and has good reviews. Look for a courteous, professional Monroe shuttle service you can trust.
Get to the Airport On Time with Monroe Shuttle Service
If you are not familiar with an area, navigating can become a little daunting. Instead of relying on public transport, which may take a somewhat roundabout way to the airport, consider a Monroe shuttle service. From door to door, they are knowledgeable on routes, traffic patterns, congestion, and construction. Monroe Shuttle drivers go back and forth to airports all day and are reliable and dependable. With a shuttle service, you don't have to worry about watching the meter, just sit back and relax. When you hire a professional driver to get you to the airport, you'll arrive refreshed and ready to go.
Monroe Airport Shuttle Service: The Hassle-Free Way to End Your Trip
When you're at the end of your trip and ready to come home, you can just feel exhausted. Don't worry about fighting your way across the parking lot with luggage, looking for a car parked who remembers where. Airport parking lots can prove a lot bigger than you remembered them at the end of the journey. A Monroe airport shuttle service takes all the hassle out of going home again. Don't trek through rows of cars, just step into one of ours and go home in style. Clean and comfortable, one of our fleets is the perfect way to end your flight.
Prompt and Courteous Drivers
No, not the name of a novel, though it can prove a novelty to some companies. When you hire a professional driver, you deserve professionalism. Our friendly drivers are always prompt and courteous. We value your time, and you, and treat our customers respectfully. We respect that you have a flight to catch, and will ensure you get to the terminal in time. We load and unload your luggage, and take the stress out of some parts of your travel. Our drivers greet you, make sure you are comfortable, and relieve you of some of the hassles of airport travel.
Reliable Airport Shuttle Service in Monroe – Sit Back and Relax with Us!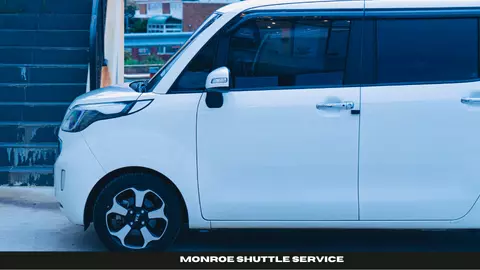 We understand travel is a large to-do list, so let us take just a few things off your agenda. Let us get you to and from the airport in a relaxed but timely manner. We always show up on time and take good care of you. Sit back in one of our luxurious cars, and start and finish your trip in style. Let us take care of the traffic, the construction, and the route planning. Our drivers are familiar with the area and know everything from speed limits to which lane to take. You can focus on the scenery while the driver focuses on the road. If traveling for business, take advantage of the time to catch up on some work. Whatever the reason for your trip, there's no reason to drive when you can hire a Monroe shuttle service. Contact us Today!