Make Holidays Stress-Free with Middlesex County Van Service for Family Travel
Need special occasion transportation to travel with all your family? The holidays are very busy. Families get together and visit the town and go sightseeing together. There may be a lot of transportation happening and lots of cars involved. What better way than to hire a Middlesex County shuttle van service to get everyone to all the important places together? There are a few more reasons why renting a shuttle van service for the holidays is a great idea.
Keep Your Family Together with a Middlesex County Shuttle Van Service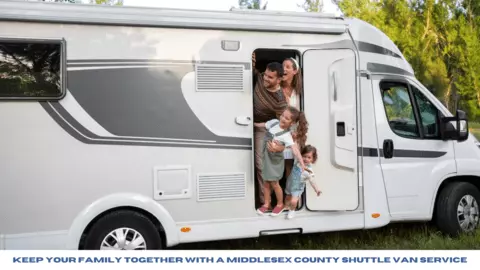 A shuttle van service keeps all the family together in one place. You are able to transport all the family in one vehicle. Most Middlesex County van services include about 15 people with baggage and strollers. It is such a better way of traveling than separating all the family and depending on 4 to 5 cars carrying people to the same destination.
Comfortable and Efficient Middlesex County Van Services for Short Trips and Airport Transportation
Middlesex County Van services are also great for transporting people on short trips or to the airport. They are very comfortable and spacious for all. They are more efficient on gas, too. A luxury van service is fun for the family. Everyone is together and can chit-chat while traveling and reaching the destination together.
Cost-Efficient Traveling with Middlesex County Van Services
A luxury van service can be cheaper than other ways of traveling. A Middlesex County shuttle van is less expensive and more family-friendly. Van services have many options. You are able to book it for a limited time or for the entire day, it is up to you. When making several small trips to towns and cities, van service is the most cost-efficient way to go.
Direct Transportation to Your Destination with Van Service
A van service will take you directly to your destination from wherever you may be. There are no in-between stops, delaying your trip further. A van service does not make specific stops, they will take you from one place to your destination. Whether you want the van service to pick you up at your home, the airport, the church, or a family gathering, they can pick you up anywhere. You let them know where to pick you up and where you need to go. At First Choice Limousine and Car Service, we offer curbside service at your exact location. No walking to a train station and asking a family or friend to drop you off. Your van service will come to you and take you to where you need to go without any stops in between.
Reliable Van Services with Experienced and Friendly Drivers
With a van service, you can rest assured that we are committed to providing experienced and friendly drivers for your ride. You will always feel safe and comfortable enjoying your rides from drivers who know the area inside and out. If you want to take some of the stress away from a busy holiday season, book a van service in Middlesex County for you and your family today.
Best Middlesex County Van Service: Book with First Choice Limousine and Car Service
Searching for the best Middlesex County Van Service company? At First Choice Limousine and Car Service, they are the ones to book. We have over 20 years of repeat customers. With First Choice Limousine and Car Service, you can rest assured you will not have to worry about getting to your destination. With each of our vehicles, we offer complimentary cold water, snacks, and WiFi. It is our mission to eliminate the stress of travel for you, especially during the holidays and we continue to set new standards in luxury transportation and professional driver service. Book your ride today and get ready to sit back, relax and enjoy the ride!