Reliable Mercer County Van Service for Your Next Group Travel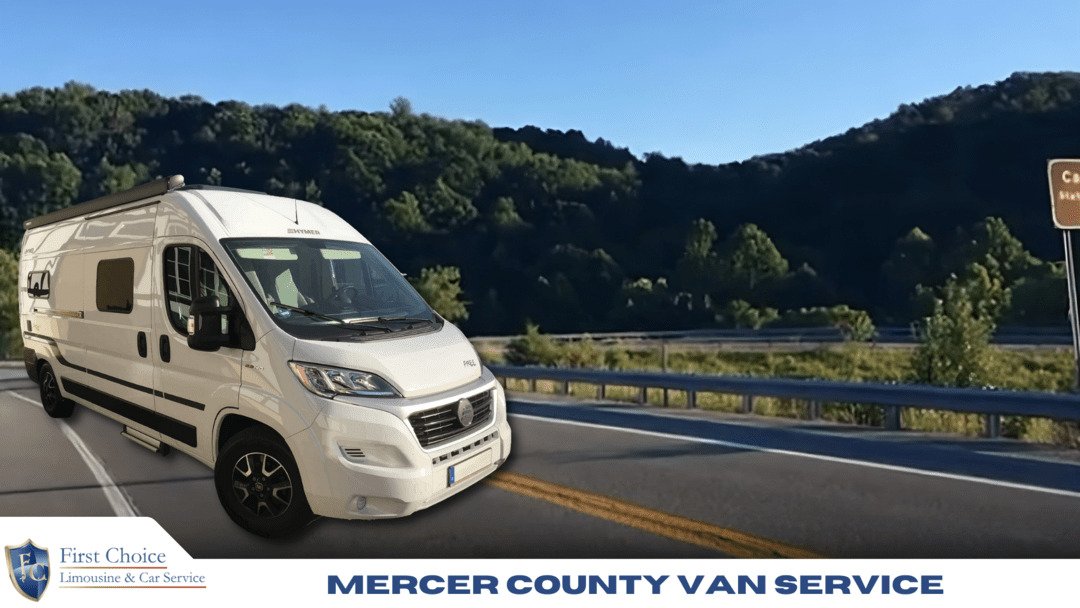 Searching for van services for your next travels? Planning transportation for a group can be stressful because communication becomes more difficult. The best solution is to hire a reliable van service. A Mercer County van service can eliminate many risk factors, for example, getting lost or missing an event. There are many benefits to traveling with a reliable van service in Mercer County.
Stay Organized with Mercer County Van Service
One of the benefits of hiring a van service for corporate travel is organization. You do not have to worry about carpooling or renting multiple cars. A van service is easy, and convenient and makes traveling a smooth experience.
The Safety Benefits of Using a Reliable Mercer County Van Service
With a van service, you can eliminate the worry of traveling safely. Our drivers at First Choice Limousine and Car Service are the best drivers so you can sit and relax. The peace of mind that you do not have to keep your eyes open on the road, your professional driver is doing it for you. A reliable van service has superior safety over all other transportation options.
Privacy and Comfort: A Key Advantage of Van Services for Local Transportation
One of the great benefits of a van service is privacy. With a van service, you are only traveling with your group. It allows everyone on the van the opportunity to get to know each other better, get work done, or just relax. There is no hassle using a van service because you never have to worry about getting to your destination. Your driver is familiar with the area so he will get you to where you need to go with no delay. It is a stress-free ride! With a van service, you get many cool features like controlled temperature, comfortable seating, and extra storage. These extras can make a long and tiring trip seem so much better.
The Convenience of Retrieving Lost Belongings
The personalized service you get with a van service does not compare to any other sharing ride. If you need to make extra stops, that is fine, your driver is willing to do that for you. Your driver will accommodate all your requests to make your ride more enjoyable. If you leave any belongings in the van, you can call your driver to have them returned immediately. Our drivers go through a thorough background check and they take a lot of training to ensure that their passengers are safe and happy. The passenger's safety is our number one priority when it comes to our reliable car service.
Experience the Best Mercer County Van Service with First Choice Limousine and Car Service
Our goal is to make your ride the best. We know that traveling with a group can be challenging and somewhat tiring, so we want to make your experience rewarding. A car or van service is the most convenient and reliable way to travel. Our drivers help provide you and your group with a positive travel experience.
Are you looking for the best Mercer County Van Service company? Whether you are booking a night on the town, a wedding, or a van shuttle service, you can rest assured that you won't have to worry about getting to your destination with First Choice Limousine and Car Service. Each of our vehicles offers complimentary cold water, snacks, and WiFi. Our great team of drivers is professional and personable. Once you work with us, you will experience the First Choice Limousine and Car Service difference. We have been serving satisfied customers for over 20 years all over New Jersey. It is our mission to eliminate the stress of traveling for you giving you the most luxurious transportation and professional chauffeur service around. Give us a call today and just sit back, relax, and enjoy your ride!