Mercer County Sprinter Service for Hassle-Free Business or Family Trips
Mercer County Sprinter Service. Thinking of getting sprinter service for your next travels? Plan your services with First Choice Limousine and Car Service. There are many benefits to hiring a sprinter service for your next business trip or family trip.
The Fuel Efficiency Benefits of  Mercer County Sprinter Vans
Mercer County Sprinter vans on the market today are more efficient compared with using a big sedan. Even the least fuel-efficient Sprinter vans are far ahead of an RV. The amount of money you will be saving is significant.
Reliable and Well-Maintained Sprinter Services for Your Safety
Optimal safety in all sprinter services. The safety features vary with each different model, a lot of thought is put into the design and standard features in the Sprinter service vehicles. You can always rest assured that the sprinter services are safe and reliable since they are very well maintained.
Mobility is Key: How a Sprinter Service Can Benefit Your Business
Using a sprinter service helps make your business completely mobile. Adding a mobile factor to your business can open doors to entirely new thoughts and ideas. Traveling becomes easy when meetings can be done on the go.
Comfort and Space: The Benefits of Choosing a Mercer County Sprinter Van Service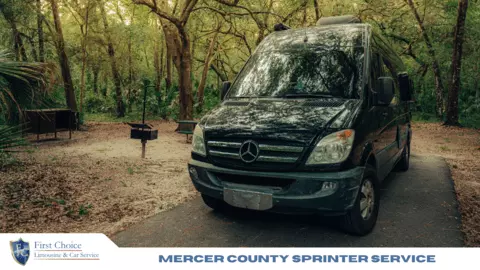 A full-size Mercer County Sprinter van service has a better comfort level than an SUV or minivan. It is easy to focus on the endless opportunities to create a unique sprinter service completely tailored to your business. If you are going to spend a long time driving and, in a van, or car, you want it to be as comfortable as possible. The amount of space you get depends on the model you choose, even though the Sprinter vans are spacious. They give you the opportunity to maximize the space you have and work more efficiently.
Reliable Ground Transportation with Sprinter: No More WiFi Worries
If you use a Sprinter, you will not have to worry about a WiFi issue. A sprinter gives you reliable ground transportation while traveling from point A to point B. With quick and easy access to WiFi, you will never have to stress about falling behind on any of your daily assignments. You can even have meetings on the road. Don't want to be bound to a phone meeting, you can actually have a face-to-face meeting. You can also discuss business issues with your peers instead of waiting until you get to a conference room. Because the WiFi is available, you can simply set up Skype calls all around the globe.
Reduce Travel Expenses with Mercer County Sprinter Van Service
Cutting costs is a very important priority for the executives in the company. By hiring a Mercer County sprinter van service, you can considerably reduce your travel expenses. Flights may cost hundreds of dollars per person and with added baggage fees the expense of the flight can go much higher. A sprinter service is available for a set amount fee and can provide numerous employees to travel together to a single destination. Traveling with a sprinter service is the way to bond with your team, save your business money and be able to share your work experiences and build trust with each other. Bonding becomes easier for all attending the trip since there will be plenty of time to talk and share thoughts over the course of your business trip.
Experience the Best Mercer County Sprinter Service with First Choice Limousine and Car Service
Are you looking for the best Mercer County Sprinter Service? First Choice Limousine and Car Service is the place to call. Each of our vehicles offers complimentary cold water, snacks, and WiFi. Our team of chauffeurs is professional, personable, and on time, all the time. We have over 20 years of repeat satisfied customers who have experienced the First Choice Limousine and Car Service of New Jersey difference. Give us a call today so you can sit back, relax and enjoy the ride!