Advantages of Hiring an Airport Shuttle in Middlesex County: Enjoy Luxury Travel to and from Airports
Are you looking for an airport shuttle in Middlesex County? Airport shuttles are a reliable means of transportation to and from airports in most major cities. Some companies are even offering luxury airport shuttle services, allowing passengers to share a ride in limousines or private cars instead of standard passenger vans. Below are some advantages of hiring an airport shuttle in Middlesex County.
Enlisting an Airport Transportation Service Can Save Your Time and Money
Enlisting in an airport transportation service not only significantly reduces the tumult associated with air travel and airports but also saves you valuable time and money. For one, with an airport transportation service, you will not have to pay those over-priced parking and rental fees. Also, airport transportation service chauffeurs know their city and will, therefore, use the most convenient routes to get you there in plenty of time. You will be dropped off right at your destination with enough time to go through security, grab snacks and refreshments, use the restroom, and casually walk to your gate.
Reliable and Timely Service: The Benefits of Using an Experienced Middlesex County Airport Transportation Service
When you use an experienced Middlesex County airport transportation service you are sure that you can count on them in several ways. First, you never have to worry about making it to the airport on time or being stranded at the airport when you land.
A good airport transportation service will hire professionally trained chauffeurs who will always be on time to pick you up and drop you off. Also, with a good airport transportation service you are guaranteed that the vehicle you receive is well-maintained, so you never have to be concerned about hygiene, breakdowns, or safety.
The Importance of Safety in Private Airport Transportation Services
Private airport transportation services go the extra mile to guarantee your safety; after all, they have a reputation to protect. Most Middlesex County airport transportation services will ensure that their chauffeurs are professionally trained. They will even conduct background checks on their employees to confirm that they are in safe hands at all times.
Benefits of Choosing an Airport Transportation Service in Middlesex County
Conventional means of transportation are normally cramped and uncomfortable. They usually have little room for storage and offer little privacy. An airport transportation service in Middlesex County will allow you to choose from a wide variety of vehicles in their fleet. This way, you get to choose whichever vehicle suits your specific needs for a truly comfortable and luxurious ride.
Looking for the Best Airport Shuttle in Middlesex County?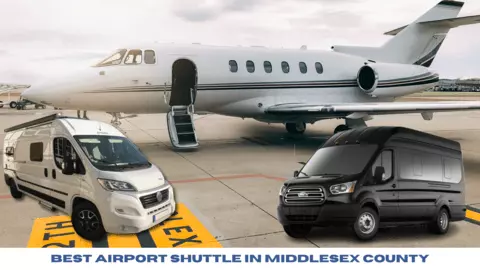 If you're searching for the best Airport Shuttle in Middlesex County, contact First Choice Limousine and Car Service! We are a limo service that ensures your safety. Each of our vehicles offers complimentary cold water, snacks, and WiFi. Our team of chauffeurs is professional and personable all the time. Once you work with us, you will experience the First Choice Limousine and Car Service difference. We have over 20 years of repeat satisfied customers. Give us a call today and schedule your next trip!